A Chorale is Born (1992)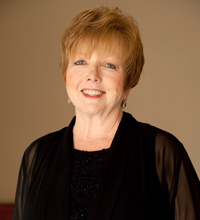 In 1992, Dr. Carole Clifford, a professional singer and voice instructor, moved with her husband from Jacksonville to Orange Park, Florida. She and her adult voice students wished that Clay County, like Jacksonville, could offer and celebrate choral music; thus, The Orange Park Chorale was born.
Dr. Clifford decided that The Chorale would be an auditioned group, and would be named to identify its place in the community. In a truly grassroots effort, auditions were advertised in local papers and through word-of-mouth. Some 20 singers showed up to audition and, according to Dr. Clifford, "they were quality singers, too!" It wasn't long before members were paying dues to purchase music and pay a professional accompanist — something that ensured the consistency and quality of the music.
Early Success
In fall 1993, The Orange Park Chorale gave its first concert, performing Vivaldi's Gloria and Vaughn Williams' A Song of Thanksgiving, among other pieces. Twenty years later, The Chorale has grown to more than 45 members and has expanded both its repertoire and reputation.
Following the successful beginning, a Board of Directors was formed and officers were elected. In July 2000, The Chorale incorporated in the State of Florida and obtained 501(c)(3) non-profit status.
Also in 2000, The Orange Park Chorale participated in a special, first-of-its kind event entitled, Sing For The Cure: A Proclamation of Hope. The piece was a song cycle dedicated to those affected by breast cancer and was commissioned by the Susan G. Koman Breast Cancer Foundation. Dr. Clifford responded to an ad that was seeking choirs to premier this piece as part of a fundraising event. After submitting an audition recording, The Chorale was chosen to be one of three groups in the nation participating in satellite premiers of the work. The piece was performed at Jacksonville University with local television anchor and breast cancer advocate, Jeannie Blaylock, narrating.
Breakout Performances
A few years after the Chorale was founded, a smaller select group called The Ensemble was formed to perform with the larger chorus, on tour and at various events. In 1999 alone, The Ensemble gave 15 performances of Gospel Mass by Robert Ray. That year, the group performed the piece in several Jacksonville venues, as well as Atlanta, Georgia and Tallahassee, Florida. In later years, The Ensemble continued to serve as an outreach arm of The Chorale, performing at various locations throughout Jacksonville and in other parts of Florida.
Some special moments for The Chorale included the 2002 performance of We Remember Them – The Holocaust Cantata, composed by Jacksonville native, Donald McCullough. The group had the unique experience of performing this work at the Jacksonville Jewish Center Synagogue, and the concert included a multimedia presentation featuring photos from the Holocaust era, adding another layer of emotion to an already heartfelt performance.
In 2004, The Chorale joined with the Jacksonville Masterworks Chorale and a 19-piece orchestra for two performance of John Rutter's Requiem. The next year, a stage production of Stephen Schwartz's Children of Eden was presented. In more recent years, another stage production, this one called The Music of Gilbert and Sullivan was performed.
The year 2005 was a busy one for The Chorale, with it hosting an Invitational Choral Festival with acclaimed composer and conductor, Mark Hayes. A full festival choir composed of teenagers and adults had a full day of rehearsal one day and the next day performed a concert of Mark Hayes compositions. The Chorale has always had a special emphasis of promoting music of living American composers. This emphasis has continued though the years with concerts featuring Northeast Florida composers as well.
New Era, Same Commitment
After 15 years, Carole Clifford retired from her role as Artistic Director at the end of the 2008/2009 season. After a period of interim directors, the Board named the next Artistic Director in 2012 and has benefited from other talented and spirited directors since, including the following:
Evan Powers (co-director 2012-14)
Mark Scott (co-director 2012-14)
Amy Young (associate director 2012-13)
Dr. Tim Snyder (2014-16)
Dr. Timothy Workman (2016-17)
David Holladay (current director)
The Orange Park Chorale has a history of community involvement that includes participation in local events such as Clay County Christmas, Concert on the Green and various fundraising efforts to promote the local arts scene. Since its inception, The Chorale has performed a minimum of four concerts per year offering the gift of music to thousands throughout Northeast Florida and beyond.
Throughout our history, the members of The Orange Park Chorale have been committed to maintaining our core values of: Musical Excellence, Fellowship, Mutual Respect, Character, and Dedication.